PORT ANGELES — Visitor access will be limited at Hurricane Hill in Olympic National Park from Sept. 5-27 while the first of hundreds of mountain goats are rounded up and relocated to national forest land in the North Cascades mountains.
Hurricane Hill Road beyond the visitor center will be closed to access past Picnic Area A beginning Sept. 5 in a closure that will include the popular 1.6 mile Hurricane Hill Trail, park spokesman Penny Wagner said Tuesday.
A trail rehabilitation project will resume after the capture period, when the improved path will reopen on a rotating basis.
Hurricane Hill Road west of the Hurricane Ridge Visitor Center at the Hurricane Hill Trail parking lot will become a final departure point for the mountain goats.
From Sept. 10-21, they will captured with darts or net guns depending on the terrain and helicoptered by sling to the staging area before being transported in crates via refrigerated trucks to non-wilderness sites in the North Cascades for their release the following day, Wagner said. Those that are not captured and moved are to be killed, perhaps beginning as early as 2019.
Trail closures will be in effect for visitor and employee safety.
Switchback, Lake Angeles and Heather Park trails will remain closed Sept. 10-21.
Little River Trail and the Elwha to Hurricane Hill Trail will be open but will not have through access to the Hurricane Hill area.
There will be general access to trails near the visitor center including Cirque Rim, Big Meadow and High Ridge.
Wolf Creek Trail, Cox Valley Trail and Obstruction Point Road also will remain open.
Klahhane Ridge will be closed to access during helicopter operations, although Klahhane Ridge Trail will be open whenever possible, Wagner said.
The focus of capture operations will be Hurricane Hill and Klahhane Ridge, where Bob Boardman of Port Angeles was fatally gored by a mountain goat in 2010. Park officials say that animals there have become habituated to humans.
"That's why this is a top priority for us, to be able to capture and remove those goats," Wagner said, "to lessen those human-goat interactions."
National Park Service officials are awaiting a U.S. Forest Service decision to allow the animals to begin being captured on Olympic National Forest land and staged for removal directly from two staging areas in the national forest, Wagner said.
That could begin during two, two-week periods from summer through fall 2019 before the project wraps up in 2020, Wagner said.
Wagner said lethal removal of mountain goats could begin during the second two-week period in 2019 and occur during a brief period in 2020.
Park Service officials estimate there are about 625-675 mountain goats in the park, of which 350 can be moved to the North Cascades.
The remainder will be eliminated under a program that's still being formulated, Wagner said.
"There's only a certain number the [North Cascades] national forest can take," she said.
"The effort will be to capture as many goats as we can and translocate them before the lethal removal operation begins."
Mountain goats are native to the North Cascades but not the Olympics, where they were introduced in 1928 as hunting game before the park was established.
The population has more than doubled since 2004 and could grow to nearly 1,000 mountain goats by 2023.
Park Service officials estimate 90 percent of the 2018 population will be relocated or eliminated.
"The remaining 10 percent would be addressed through ongoing maintenance activities which would involved opportunistic ground- and helicopter-based lethal removal of mountain goats, with a focus on areas near high visitor use and areas where goats are causing resource damage," the Park Service said in a final Environmental Impact Statement frequently-asked-questions report.
National Park Service documents on the Olympic National Park mountain goat issue are at https://tinyurl.com/PDN-GoatDocs.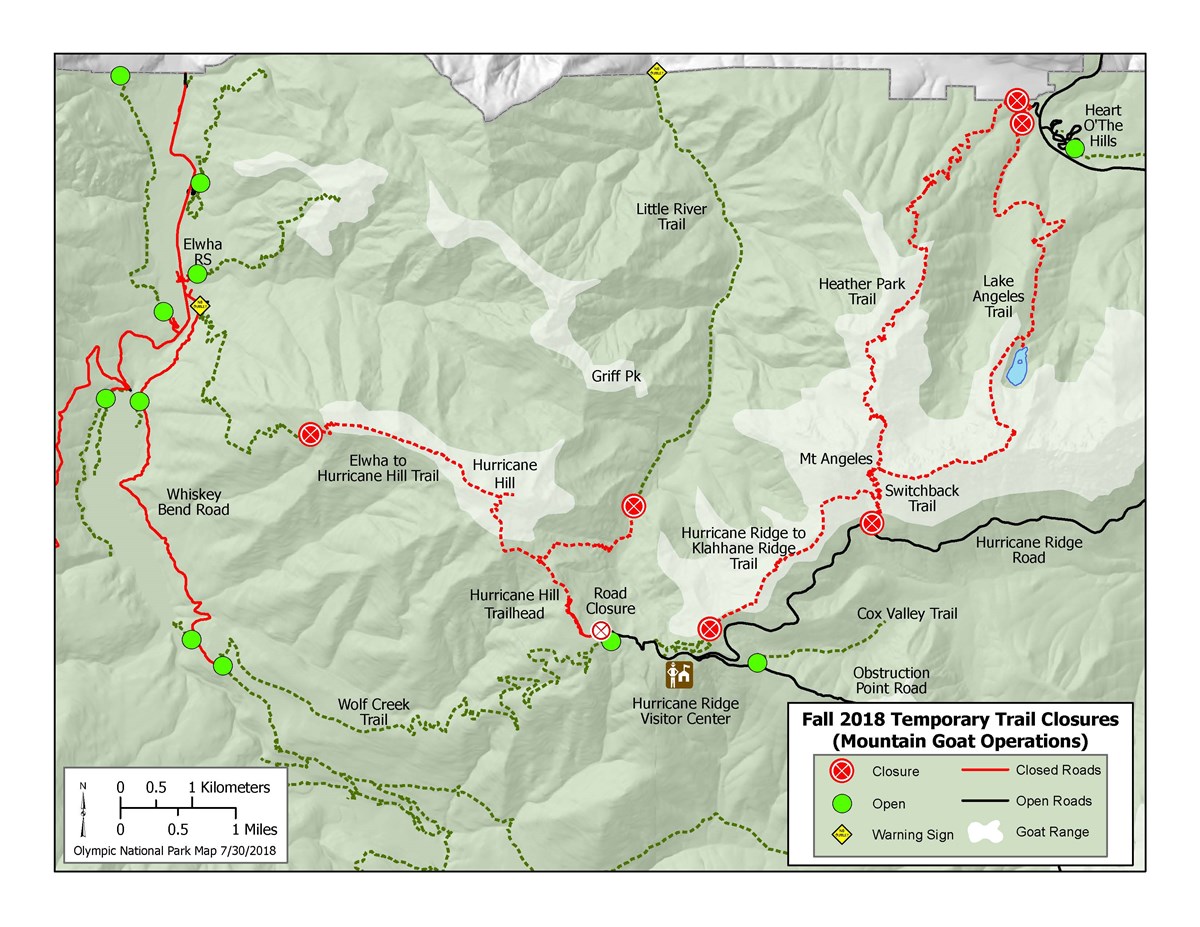 ________
Senior Staff Writer Paul Gottlieb can be reached at 360-452-2345, ext. 55650, or at [email protected].